Hygienists
Alyssa
I received my Associates Degree in Science at Vermont Technical College in 2008. I have been practicing dental hygiene at Shelburne Dental Group since June of 2008. I love my job, and take pride in excellent patient care. I live in New haven VT. In my free time I enjoy playing guitar, hiking and camping, cooking, and spending time with friends and family.
Mary Ann
I have had the privilege of working at Shelburne Dental Group since 1969. One of the reasons I have stayed so long is the amazing people I have had the honor of working with and all of our wonderful patients. The office started with the idea of treating our patients as friends and neighbors and we still continue to follow this practice.
I love dental hygiene and have had the wonderful opportunity to travel to national meetings and take continuing education classes to keep up to date on new techniques and new equipment.
I am engaged to a wonderful man, Jim, and have two sons that live in Texas and Colorado. In our free time, we travel in our RV and go to my camp in the Northeast Kingdom and have been to Alaska twice. In the winter, we enjoy going to UVM hockey and basketball games, Go Cats!
Hope to see you soon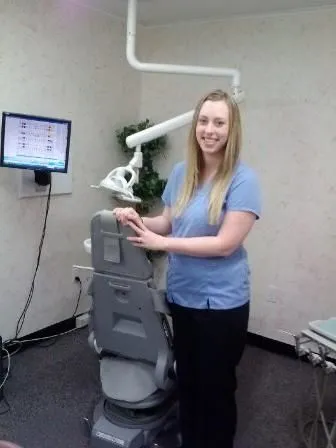 Kyla
I am originally from Massachusetts, and moved to Richmond, VT in 2014 - where I reside with my husband and our fun-loving 1 year old daughter. I graduated from the University of New England in Maine, with my Bachelors Degree in Dental Hygiene.
I absolutely love this field, and even more so, love the wonderful employees and patients that I get to work with every day! I have been at this practice for 2 years now, and I never stop learning/educating myself and others. I hope to have the pleasure of meeting you soon!
Front Office
Rosemary
I was born and raised in Vermont. I graduated from Champlain College with an Associates Degree in Business Administration in 1979. I joined the staff of Shelburne Dental Group in May of 2014. I have one daughter and two adorable grandsons who I enjoy spending my free time with. I am also an avid reader, love to kayak, hunt and browse antique stores. I look forward to meeting you!
Expanded Functions Certified Dental Assistants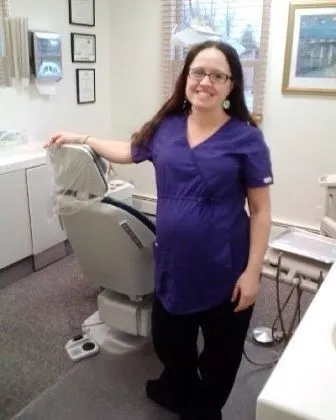 Jenny
I enjoy walking and hiking especially in the fall with my chocolate lab. Traveling, foods and eating are also some of my favorite things. I hope to see you soon at Shelburne Dental Group!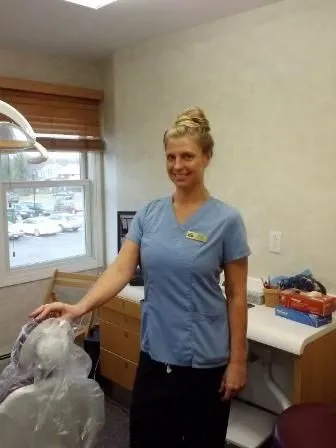 Jill (Also works as a Hygienist)
I graduated from the University of Vermont in 2000 with an Associates degree in Dental Hygiene. In 2002, I decided to broaden my Dental Horizons and enroll in the EFDA (Expanded Functions Dental Assistant) Program.
In 2005, after two years of work as an RDH, EFDA with anesthesia, I made the decision to return to UVM and continue my education. I graduated in 2007 with a Bachelors degree in Biological Science and a minor in Chemistry.
My employment at Shelburne Dental Group began when I moved back to Vermont from Laguna Beach, CA in January 2011. It feels good to be back in Vermont doing what I love to do. I enjoy the people I work with and the patients here at Shelburne dental group. I look forward to coming to work everyday with a smile and providing great care to our patients!
I love soccer, snowboarding, hiking, biking, wake surfing, surfing and anything else one could think of that involves physical activity and outdoor adventure! I look forward to meeting new faces and smiles!
Kristin
I am a native Vermonter and grew up in Essex. I graduated from the Center for Technology, Essex in 2000 as a Certified Dental Assistant (CDA). After practicing for 5 years, I returned to the technical center for the EFDA program.
When I am not working I enjoy spending time in with my two boys or the world of fitness.
Cheryl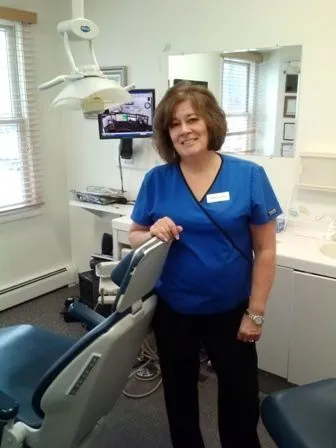 Mary
I was born and raised in South Burlington, Vermont. I currently reside in Colchester with my husband, son and daughter. I went to Champlain College in 1978 for two years for Dental Assisting. In 1981, I resumed school at Northhampton Community College to become an EFDA.
I have been in dentistry now for 35 years. I have enjoyed working with the public and knowing that I can make a difference in their appearance and maintaining a healthy mouth.
My outside activities are ceramics, gardening, spending time with my family and attending school sports.